Good Morning. I went to bed earlier last night so didn't get any blogging done. The steriods are down to one a day and the antibiotic gone and it seems I can sleep again. We had the 4 and 6 yo grandsons over for their weekly sleepover last night so the house is still alittle chaotic but I have to have my coffee before I start moving around. Therefore I decided to type in my blog. I was really lazy with sewing yesterday. I did play around with cutting out some shapes to try and make a one piece doll and it came out okay. Don't know yet what the finishing touches will be but it was fun.
Payton Ruby came with her dad to pick up the boys today. She was carrying two purses but I gave her the little zippered doll one and she loved it. I'm sure she will love this little crazy one piece rag doll too. She is such a pack rat. Had to take home a book and then picked up two little shovels off the front porch along with her 2 purses. She let her dad carry the book. She is a little skinny thing and looks so cute and funny walking down the sidewalk with all that stuff. I should have taken a pix but didn't have time to get the camera.
Well, I was looking at pictures on our ebay quilting group and someone posted a Morning Star quilt and it gave me an idea that I could make a lovely quilt from my feedsacks using that pattern. I am always on the lookout for a pattern to use with them but most just don't fit. Here is the link to the pattern on quilters cache. It is done in red and white here but the one in the pix was in civil war fabric therefore the inspiration for me
http://quilterscache.com/M/MorningStarQuilt.html
Here is the pix. Don't you think this would be a great feedsack pattern?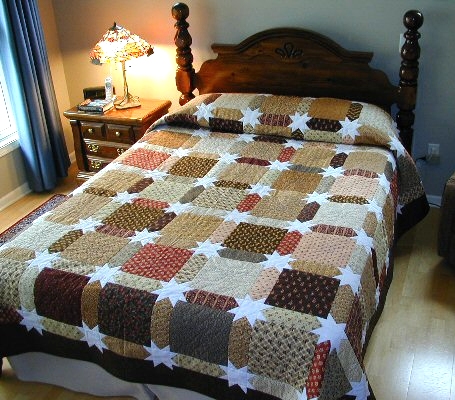 I haven't had breakfast yet so I must be off. I did get a contact email from fabricartist and it was so sweet of her to browse my blog and comment on it. She has a great giveaway today only here of St Pat Day charms
http://fabricartist21.blogspot.com/
.